While Tottenham Hotspur were darting ahead of Chelsea to sign Fernando Llorente, Hugo Lloris was away captaining his national team, preparing them for their World Cup qualifier against Holland at the Stade de France.
But Lloris heard the rumours about Llorente, who Spurs had offered £14m for. "Gaffer, is it true about Llorente?" he texted Mauricio Pochettino. His manager texted back to confirm Spurs were about to get their man. "Wow," replied Lloris. "Fantastic player."
Pochettino revealed the story at his Thursday afternoon press conference, to show just how highly regarded the 32-year-old is by his Spurs squad. He has come in as squad player, as an upgrade on Vincent Janssen, but he already means far more to Spurs than that.
"It's amazing," Pochettino said of Llorente. "That is the impact that he has on the changing room. Because all the players respect him. And then they start to meet him, how he is, he is very warm, very friendly, it was fantastic. It's a big impact for our changing room."
Llorente is a very good player, but Spurs were as attracted by what he can do off the pitch as on it. Everywhere he has played he has been a popular and admired team-mate. Antonio Conte was so impressed by his conduct at Juventus that he wanted he take him to Chelsea, more than anything else as a mentor and guide for Alvaro Morata. But Tottenham got there first.
As everyone knows, this is a very young Spurs squad, short on high-end winning experience. That is why they have been so good under Mauricio Pochettino and yet have no trophies to show for it. Llorente has won the biggest trophy of them all: he was part of the Spain squad that won the 2010 World Cup. He was not a regular starter, but his clever touch did set up David Villa's crucial winner against Portugal in the last 16.
"He is a great professional and a world champion with Spain," Pochettino enthused. "That is the mentality he can translate. He will bring to the team and the squad great experience."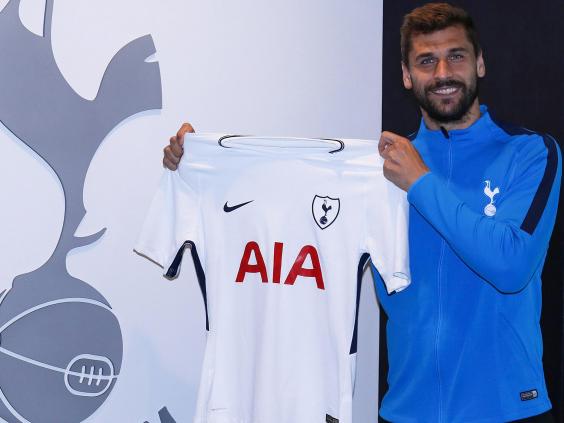 Tottenham landed Llorente ahead of Chelsea on the final day of the transfer window (Getty)
At club level Llorente was a legend for Athletic Bilbao, playing for them for eight seasons. He made his first-team debut at the age of 19, on 16 January 2005, in a 1-1 draw with Espanyol at San Mames. He worked hard but could not score. He was up against grizzled 32-year-old Espanyol veteran Mauricio Pochettino.
"He remembers better than me, he told me about it yesterday," laughed Pochettino on Thursday. "He remembers very well. I said, 'there is only one thing that I remember: that you didn't score!' He said yes, it's true, I didn't.' Unbelievable!"
It was 2013 when Llorente eventually left Bilbao in search of a new challenge. He went to Juventus for two seasons, winning two Serie A titles, one under Conte, the next under Max Allegri. Then back to Spain to Sevilla for one season and from there to Swansea. Where, for a struggling team, he still scored 15 goals in 28 Premier League starts. Not bad when adjusting to English football for the first time at the age of 31.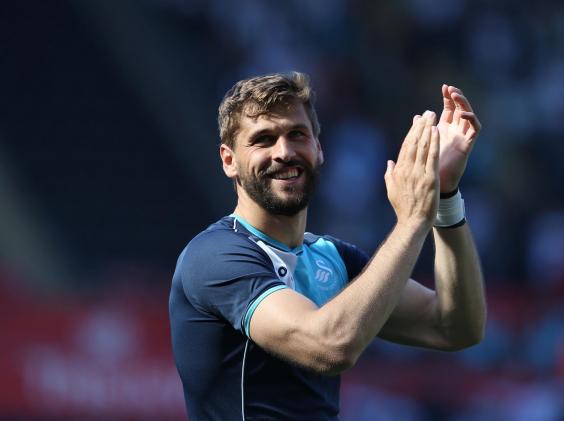 Llorente scored 15 goals for Swansea last season (AFP)
Llorente has only been with Spurs for one week now but in that time he has already shown Pochettino the value of having him around. "When you saw him in training from day one it was like a 16- or 17-year-old going to training with the first team for the first time," Pochettino said. "That is massive because that energy is fantastic and a very good example for everyone. He is a very good person. Not all experienced players can bring what Fernando can bring to the team. It is not because you are 32 that you are great, sometimes you are 32 and you struggle, but Fernando has a fantastic profile."
And then there is Llorente's ability on the pitch. Last season Spurs struggled when forced to rely on Janssen who was simply not good enough to play for them. That meant they lacked a Plan B in games they could not break open, and lost their edge when Harry Kane suffered his two ankle ligament injuries. Now, for the first time in the Pochettino era, he has a deputy to Kane he can trust.
"At Swansea last season Fernando scored 15 goals, he can repeat the same with us," Pochettino said. "We really believe he can help us to achieve the things we want to achieve."
Reuse content