Some footballers are different in person from how they are on the pitch, but Bernardo Silva is not. Almost everything that makes him one of the best players in Europe – the obvious intelligence, the imagination, the confidence and precision, in saying what he means to say, doing what he means to do – comes across just from talking to him after training on Friday afternoon.
The Premier League has only seen 94 minutes of Silva so far, spread across three appearances, two from the bench, one from the start. But it already feels as if he could be the next big star of English football. He certainly has the talent, the personality and the manager to give him the best chance.
Because what stands out about Silva more than anything else is that he thinks quickly and learns quickly. He was a star at school who started a degree at the University of Lisbon before his professional football career at Benfica got in the way. He found his way to the first team there blocked so he left home for Monaco. Within two years, at the age of 22, he was the creative brain of the most entertaining team in Europe, embarrassing both Tottenham Hotspur and Manchester City themselves on their way to the Champions League semi-finals.
If you can't beat them, buy them, and this summer City paid Monaco the best part of £100m on Silva and his good friend Benjamin Mendy. The deal for Silva came at the very start of the summer, City getting in ahead of Manchester United to tie him up on 27 May. It all happened so fast, with Silva insulated from any discussion while he was still starring for Monaco.
"I don't know what happened before the season ended," Silva recalls. "My agent [Jorge Mendes] told me he was not talking with me about any possible transfers before the season ends. I knew I might leave Monaco, but my agent always told me to be calm. If anything good would arrive for me, he would take care of me."
City bid an initial £43m and soon enough they had their man. "When the season ended, my agent gave me the options and said City were very interested," Silva says . "You cannot say no to a club like Man City, I did not think twice."
That was the week after the season ended, but Silva did not arrive in Manchester for pre-season until 1 August, having played for Portugal in the Confederations Cup first. Pep Guardiola's football is famously complex, demanding his players understand his principles and memorise his details, "attacking and defending, in all the game phases," as Silva puts it. But there is no doubt, from Guardiola or from Silva himself, that he would learn it soon enough.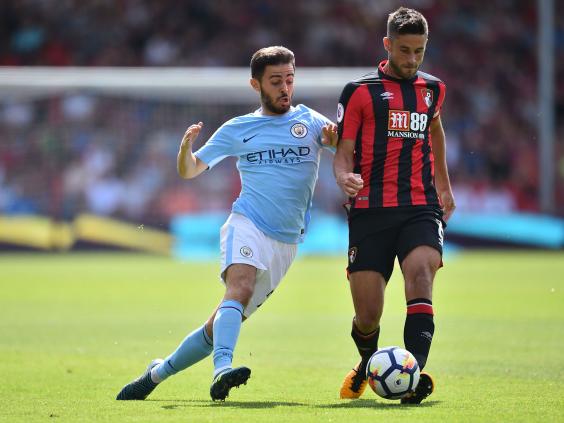 Silva has settled quickly into Premier League life (Getty)
"My first conversation [with Guardiola] was when I arrived here, he just told me to by myself, that I would get adapted to his way," Silva recalls. He feels up to speed already. "It has only been one month, but I have already learned the way he wants to play, the way it works."
Training is one thing but matches are another. He came off the bench against Brighton and Everton, and two weeks ago Guardiola trusted him from the start, in an inside-right role in a 4-3-3 formation. He showed everything that makes him so good: the chessboard vision of the pitch, the change of pace, the adhesive left foot that makes his team-mates call him 'bubblegum'.
The one thing Silva has to learn is the physical side. He is only 5ft 8in and he is slight, not stocky. He does not look obviously well-equipped for the frantic dodgem-ball of the Premier League. And yet he does not give any sense in conversation that this will be slightest problem. He knows the issues and will be ready soon enough.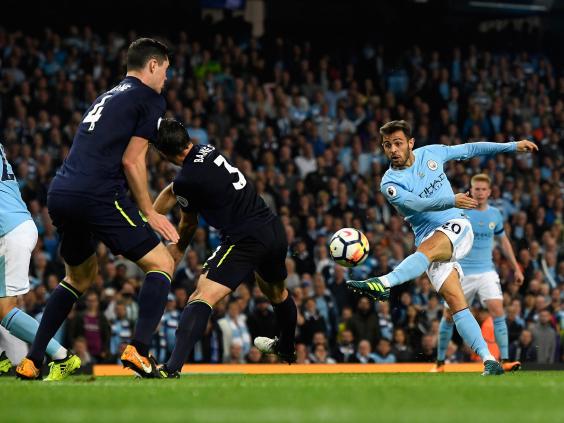 Silva tried his luck with a shot on goal against Everton (Getty)
"I think [adapting] has been easy, yes," Silva says, with all his normal assurance. "I am getting adapted as fast as I can. The game doesn't stop as much as in other countries. Most of the other leagues, you have 90 minutes, but you only play 60. Here you have 90 minutes, you play 80. So you end the game more tired."
Silva will get kicked, but he is not especially worried about that either. "The referees they don't give a lot of fouls, so the players take advantage of that," he shrugs. "That is why it's so competitive, such a good league. I know that if I fall easily, they won't give it. I am already aware of those situations, I am trying to get adapted as fast as I can."
That is what Silva had to do when his boyhood dream of playing for Benfica ended. He grew up in the centre of Lisbon, by the Campo Pequeno bullring, so he identifies as a "city person", determined to live in the centre of Manchester rather than out in leafy Cheshire. He grew up in a comfortable middle-class home; his mother is an art teacher, his father a businessman. They sent him to private school – his English is immaculate with an American tinge – and wanted him to keep studying.
But Silva always loved Benfica, and he has the tattoo of their motto, 'E PLURIBUS UNUM', on his left arm to prove it. His hero as a boy was Rui Costa. "Because he played for Benfica, he was playing for the national team, he was playing in my position as well, and was such a great player." He also mentions Pablo Aimar, Deco, Andres Iniesta and Zinedine Zidane.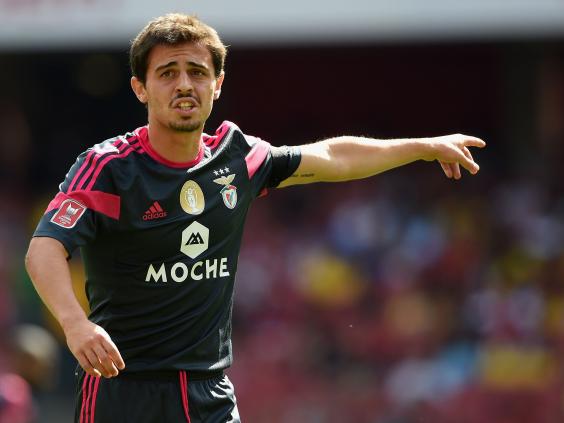 The player still holds a deep love for his old club Benfica (Getty)
Silva was a young star of the Benfica academy, but when he finished school he enrolled at the University of Lisbon, at the Faculdade Letras, to do a Bachelor's degree in European studies. It did not work out. "I tried to go to university, and I stayed there for one year, but I didn't do much there because I already had a contract with Benfica," he says. "My parents always wanted me to keep studying while I was playing, as much as I could. But then it arrived where I couldn't do both things."
In the summer of 2014, 19-year-old Silva expected to break into Jorge Jesus' Benfica first team, having just starred as a number 10 for Benfica B, known as 'Messizinho'. But Jesus had other attacking midfielders so decided that if Silva was going to play for him, it would have to be at left-back: "He didn't count on me, he had a lot of players in my positions, so he put me as a left-back, because there was no-one left to put there."
It was the painful end of a long-held dream. "I was a Benfica fan, I had played there for 12 years," he says. "My dream when I was younger was always to be a Benfica player. So when I arrived on the first team to work with a coach that didn't count on me, who put me as a left back, of course I was a bit sad."
Manchester City v Liverpool Premier League match preview
The Benfica president Luis Filipe Vieira wanted to keep Silva, but Jesus did not want him, so he was loaned to Monaco, always a team receptive to talented youngsters. There he found a Portuguese coach in Leonardo Jardim who had been appointed to get the most of his young players. Jardim started off with Silva as a right-winger, then realised what a talent he was and moved him into his favoured central role.
Silva was happy to play and to learn, to put his Benfica disappointment behind him. By his third year he was playing as an inside-right in Jardim's narrow 4-4-2, with right-back Djibril Sidibe overlapping him. Silva was orchestrating play, feeding passes to Kylian Mbappe and Falcao, shredding opponents everywhere they went.
"All of us helped each other last season," Silva explains. "I was playing with Sidibe behind me, he helped me, Falcao helped me in front, and Fabinho playing behind me as well. They were recovering balls, giving it to us, we would create and give the ball to Mbappe and Falcao. Everything worked very well for us last season, we had a good atmosphere and the game was flowing well for us."
For many players, running a team that good, winning the French league and admirers across the world would be the peak of their career. But as they say about Silva in Portugal, he has talent from his foot to his hair. His best years are still to come.
Reuse content